Dr. Zack Nelson, Chiropractor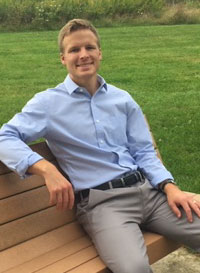 We're proud to announce that Dr. Zack is no longer an intern and has joined our office as a chiropractor.
Dr. Zack is passionate about the health and wellness of our patients. As a child, he suffered from frequent headaches and found significant relief with chiropractic care, which sparked his interest in the profession.
His decision to become a chiropractor and applied kinesiologist was solidified years later when an applied kinesiologist helped him with his autoimmune condition. He had seen several different physicians before someone decided to look at him from a whole-body health perspective.
Dr. Zack has a desire to provide exceptional holistic care, much like he had received several years ago. He specializes in applied kinesiology, clinical nutrition and stress relief techniques.
A native of Coopersville, MI, Dr. Zack attended Grand Valley State University for three years and finished his Bachelor of Science in human biology at Northwestern Health Sciences University in Bloomington, MN. He went on to complete his doctorate of chiropractic at Northwestern. He greatly enjoys being back home in Michigan, watching college football, backpacking, and spending time with his wife, Amber, and his daughters, Delilah and Katie.
Do you have any questions? We would be happy to help! Contact us today to schedule an appointment!
---
Chiropractic Plus | (616) 791-9702