Meet Dr. Dan Ohlman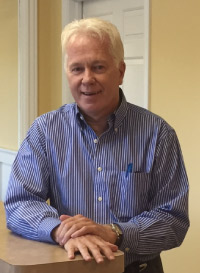 "Our babysitter introduced me to chiropractic care. When her son had a cold, she would take him to see a chiropractor. The little boy got over the cold quicker due to a healthy nervous system's ability to boost the immune system." A year or so later, Dr. Ohlman met another chiropractor who performed the muscle testing reflex technique. "I was intrigued with this unique approach, which led me to Chiropractic School."
Addressing the Whole Person
For Dr. Ohlman, his greatest success as a chiropractor is being able to address the whole person from a wellness perspective — not only looking at the physical but also the chemical and emotional/spiritual side of things. When people experience stress and tension bones can become misaligned causing a subluxation. He does his best to find the primary underlying cause of why that subluxation or misaligned vertebra is there.
A Chiropractic Education
In addition to his undergrad education at Western Michigan University and later Grand Valley State University, Dr. Ohlman earned a master's in counseling at Western Michigan and worked as an outpatient alcohol counselor. During his time there, he began to see how nutrition affected emotions and how exercise, yoga, and tai chi fit played a role in wellness. He decided to go to Palmer College of Chiropractic at the age of 30. His other accreditations and training include:
Completion of a 100-hour Applied Kinesiology program
Certification in the Neuro Emotional Technique (NET)
Seminars in Nutritional Response Testing, Morphic Field Testing and Total Body Modification
Patient Testimonial
Dr. Dan has helped me so much in such a short time. My hips and my neck have been causing me pain for a long time. Both were chronic problems. Dr Dan has significantly reduced my pain and given me back my mobility! This has changed my life significantly. I also had severe sinus issues, which he has helped me to greatly improve, with chiropractic and supplements. My breathing, my sleeping and my energy levels are so much better. Additionally, he is kind, caring and easy to talk to! As a note, I am an 80-year-old woman, so it's never too late to get your life back!
-Celia M.
Staying Active in Grand Rapids
When he's not at Chiropractic Plus, Dr. Ohlman enjoys spending time with his family, which includes two daughters and five grandchildren. He also likes staying active by hiking and exercising, playing the drums and doing volunteer work. Additionally, he's involved in a group that discusses spiritual matters.
Dr. Ohlman is a member of the Michigan Association of Chiropractors (MAC).
Embrace a healthier you by booking an appointment with Dr. Ohlman at our Grand Rapids practice today!
---
Chiropractor Grand Rapids Dr. Dan Ohlman | Chiropractic Plus