Dr. Zack Nelson, Chiropractor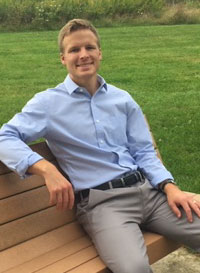 Dr. Zack is passionate about the health and wellness of our patients. As a child, he suffered from frequent headaches and found significant relief with chiropractic care, which sparked his interest in the profession.
His decision to become a chiropractor and applied kinesiologist was solidified years later when an applied kinesiologist helped him with his autoimmune condition. He had seen several different physicians before someone decided to look at him from a whole-body health perspective.
Dr. Zack has a desire to provide exceptional holistic care, much like he had received several years ago. He specializes in applied kinesiology, clinical nutrition and stress relief techniques.
A native of Coopersville, MI, Dr. Zack attended Grand Valley State University for three years and finished his Bachelor of Science in human biology at Northwestern Health Sciences University in Bloomington, MN. He went on to complete his doctorate of chiropractic at Northwestern. He greatly enjoys being back home in Michigan, watching college football, backpacking, and spending time with his wife, Amber, and his daughters, Delilah and Katie.
Patient Testimonials
Dr. Zack is amazing!
I came to Dr. Zack recently with severe pain in my lower back, on-going neck pain, digestive issues and anxiety. I also had some lingering effects from my bout with Co-vid. Through chiropractic adjustments, natural herbal supplements, applied kinesiology and NET (neuro-emotional technique), Dr. Zack has eliminated my pain, greatly improved my digestion and significantly reduced my anxiety. I highly recommend Dr. Zack if you want to get to the root of your issues and regain your health! In addition to his excellent chiropractic skills, his exceptional intuitive ability, combined with his great listening skills, were the key to resolving my issues.
-Connie T.
I know for a fact that becoming a patient of Dr. Zack's at Chiropractic Plus was the best healthcare decision I've made for myself. Due to past injuries, there were things I never thought I'd be able to do again, but with Dr. Zack's care and expertise in chiropractic care, nutrition, and emotional/stress management, I'm back to running regularly, lifting weights, and living a healthier lifestyle. Each time I've been in to see him, he locates the root cause of my issue, heals it, explains to me what triggers it, and educates me on what I can do/change to prevent it from reoccurring down the road. He does amazing work; what he does is more than a typical adjustment, it's a healing of the body and the mind. I highly recommend Dr. Zack and Chiropractic Plus to anyone in search healing and learning what they can to do live a healthier life!
-Andrew B.
Just over two months ago I started with visits to Dr. Zackary Nelson. At that time I could only walk ½ mile before pain started in my leg. After 2 ½ months of seeing Dr. Zack I now walk 10 – 20 miles a week with no pain. His knowledge of the cause of my pain, and his suggerstions of supplements have made a huge and wonderful change for me.
-Pat D.
Do you have any questions? We would be happy to help! Contact us today to schedule an appointment!
---
Chiropractic Plus | (616) 791-9702